August 28, 2004
Changes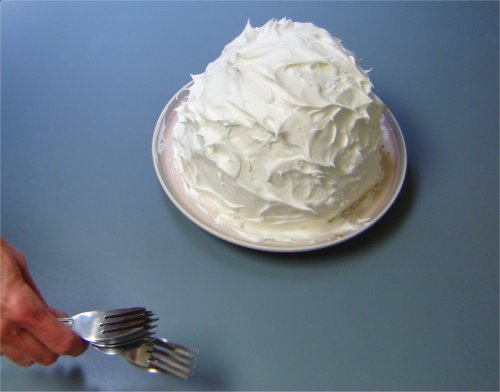 Wednesday was my last day at MDP. It was sad to see it go. It was a great job. Carol (one of my great co-workers) baked me the above cake.
My boss at MDP has taken a very laissez faire approach to managing the company, and so, on Tuesday, with only one day remaining, we had our first meeting. It was essentially the first time he'd inquired as to my progress. Until then, if I had done nothing in the 3.5 months I worked there, there would have been no one to complain. Shocking.
In fact, it was a great meeting. He asked a lot of questions, the majority of which I had answers to. Once we had gone over the first few scripts line-by-line, when it seemed the meeting was over, he announced that he was so pleased with my performance (of which as I stated he had never actually checked to the best of my knowledge), that he was presenting me a rather sizeable bonus. Not only was this completely unexpected, and unnecessary on his part, but I later learned that this was the first time he'd felt compelled to do such a thing. It really put me at a loss for words.
I suppose that would be enough to make this a good week, despite the bittersweet conge from my summer job. Today, however, I was treated to another surprise.
A few weeks back, I received an e-mail from an undergraduate advisor for the EECS department at U-M. It was a forwarded job opportunity, one of which everyone declared in an EECS major receives on a regular basis. What caught my eye in this specific proposal was its origin: Intel.
The requirements in the description were pretty minimal: Sophemore or Junior standing, a GPA of 3.0 or above, U.S. Citizen or permenant resident, and a listing of courses and skills on your resume. No big deal there. So I updated my resume, and after sending it to the wrong person, finally got it out Monday. Wednesday, the liason told me the resume had been forwarded to Intel. Today, at 2:26 PM EST, I received a message on my answering machine. Intel had called and wanted to make sure I was free for a position this Fall. I eventually calmed down enough to call the woman back. She told me she was a Software Engineer by trade, but helped with the technical side of marketing. Apparantly, Intel finds it necessary to create what sounded like elaborate tech-demos for potential clients to try to lure them to their architecture, as if Intel's architecture wasn't already the de-facto standard. Regardless, she said that they'd only received 20-odd resumes, 4-5 of which received a call back, and 2-3 of which were being interviewed. She set up a time for my interview on Monday. I will probably know if I've gotten the job by midweek next week!
Its really hard to grip the situation as it currently stands. Yesterday, my only worry was moving back to Ann Arbor on Tuesday. Now, I've got an interview on Monday, I may find out I have a job Wednesday, and I may have to make some rather severe changes to my plans for the next few months.
What a week.
August 10, 2004
June 16, 2004
June 11, 2004
June 07, 2004
June 01, 2004
May 27, 2004
May 14, 2004
May 11, 2004
May 10, 2004