March 26, 2005
March 25, 2005
March 23, 2005
March 17, 2005
NYC - Finally in Writing
Day One:
Woke up early on Sunday. Ate a delicious breakfast of cheesy scrambled eggs (thanks Stop & Shop for your random weekly specials "spend $25 and get eggs, bread, and toilet paper!") with salami and packed some lunches. Off to New Haven, CT, the home of Yale University. "Shit! That sign says 24 hour limit!" by which point we were of course comitted to entering the parking garage. Turned around and ended up at the end of a huge line of cars trying to get out. "Uhhh, we didn't know it was a 24 hour limit, we didn't park…" "It's not a 24 hour limit! Just turn around and get a new ticket." One 12 point turn, one floor up, a couple train tickets and an hour and a half riding backwards on a train and there we were in Grand Central Station. Meaning what? Time to make our first and worst mistake of the trip.
We need a map, so we go to the information booth, and viola, bus map. Don't see the mistake? We certainly didn't… Next over to 5th Ave, and North towards Central Park to see the gates that come down the next day, as well as our Hostel. Checked out Gucci; tried on a few jackets and a $3800 shirt, while Derek rocked a $2800 white blazer. The thing fit like a glove since, as Derek pointed out, at Gucci they only make clothes for skinny people. I loved it. The love wasn't shared though, as when we started taking pictures the guard expressed his dismay with our choice of actions. C'est la vie. On to Armani, Versace, Sak's 5th Ave., and Tiffany's.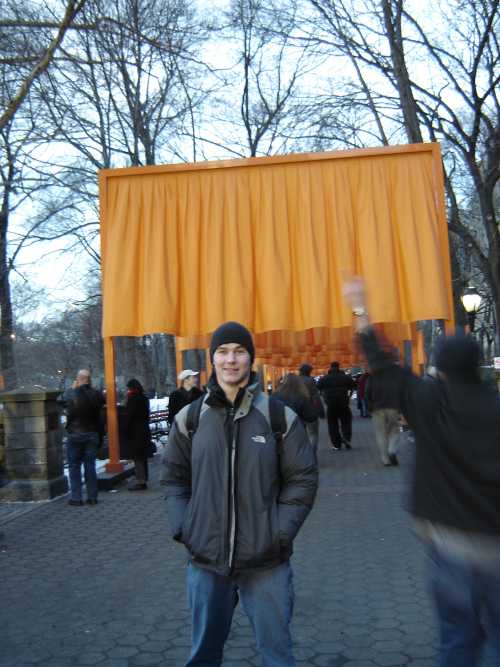 About 25 blocks later, we were there. Yes, that guy's flicking us off. Welcome to New York! We wandered North towards the Hostel and it started to get dark.
We came across an exceedingly well lit nook of the park, and went to investigate…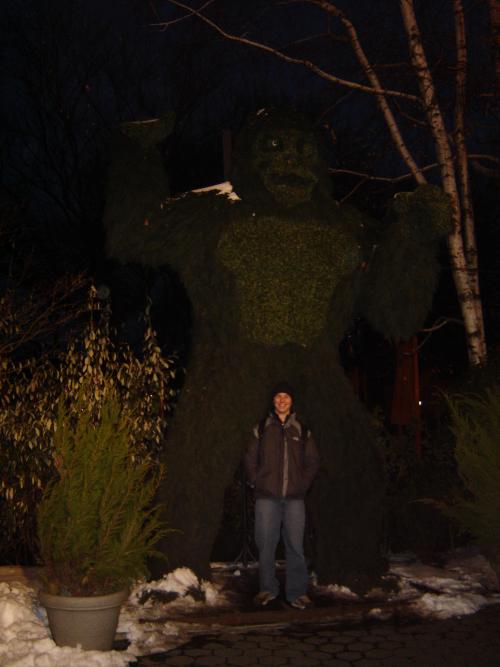 There were some amazing plant sculptures surrounding a VERY nice looking restaurant with picture windows looking out over the park and their creations. People of all ages were milling around admiring the place in all it's scenic glory and taking pictures. I went over to the giant monkey pictured above and looked around… it was by far the most popular attraction around, so at no time were less than 20 odd pairs of eyes upon it, with people swapping places below it for pictures ever few seconds. So I grabbed it's crotch and Derek snapped a picture (didn't turn out all that great, that kid needs camera lessons, not that I'm the one to give them to him). It was all worthwhile when some woman screamed "That's obscene!" Yes lady, yes it is.
We're nearing about 50 blocks of walking at this point in our zig zagging path through midtown Manhattan, and we're still 20 blocks from the Hostel on 104th, so we decide to catch a cab. Can you say arab? I mean I appreciate a based-in-fact stereotype as much as the next guy but dag, I felt like I hopped into the backseat of Iraq. The guy's turban was the size of a small elephant.
We make it to the Hostel and our 12 person coed room, at which point it was time to get our asses 78 blocks downtown to get free tickets to an improv comedy show at the Upright Citizens Brigade Theatre! We figured out the subway to get there, and before too long we were waiting in line with some righteous freaks, including one flamer who instructed us to "be safe" after the show. Thanks guy. While there, I picked up some McDonalds and brought it back. The people around us seemed to think there was LSD in our fries. I wished they were right.
The show was awesome. Horatio Sanz from SNL was there. I heckled him not once but twice! He made a bit out of it, pure hilarity. The show was so good I donated a dollar to their donation bucket… yeah that's right, good enough that a Jew gave them money. Can you get much higher praise than that? If you can I want no part of it.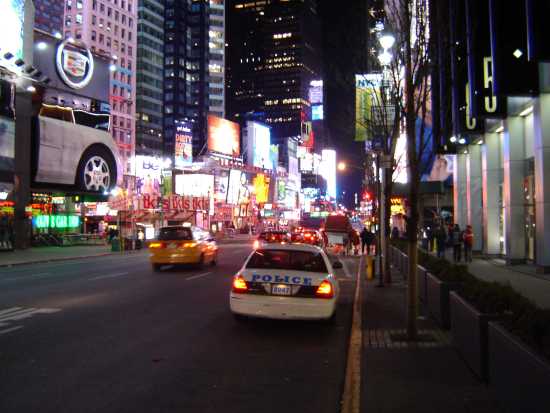 Did some random traveling, mostly looking for subway stations, catching our first glimpses of Times Square. Got back to the Hostel at about 3 in the morning, making it our earliest night in NYC. Everyone else was already asleep, and we proceeded to make as little noise as possible, which equates to waking most likely everybody up.
Day Two:
We started off by taking the subway to the Battery and the financial district (Wall Street). You couldn't get anywhere near the Stock Exchange. Apparantly they've stopped allowing tours since Sept. 11… lame. I'd have loved to pull an Abbie Hoffman. The ball above was a sculpture that had apparantly been next to the WTC during the disaster, and had giant ragged holes in it from falling debris. Had lunch at a crazy huge deli-type place which served approximately 4,000 different kinds of food and at any time had about 200 people in 40 different lines. I had the best reuben of my life, and some amazing lobster bisque.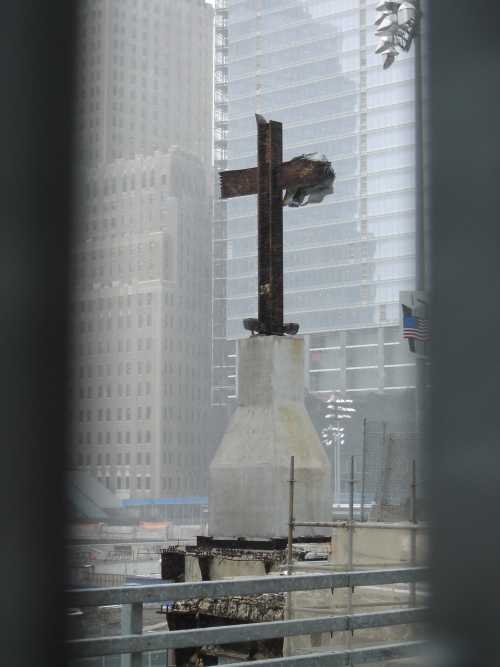 Sobered up at Ground Zero… Still a massive hole in the ground after 4 years. I don't know about the cross though guys.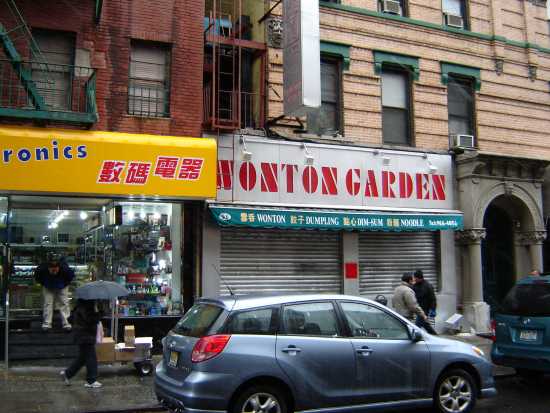 Went up through Chinatown and spotted Wonton Garden. I definitely couldn't resist taking a picture. Bought some green tea. Narrowly escaped catching severe acute respiratory syndrome. It was obviously all around us, and every time someone coughed I would scream "SARS!". Failed to escape being the only round eyes on the street, which prompted some random old guy to stop in the street, stare at us, and start screaming at us angrily in chinese. I thought of quite a few reasons why he was so pissed off, none of which are worth repeating. Proceeded up through Little Italy, The Village, and Soho.
Looked around a lot for a subway (starting to get very tired of walking by now). Took it to the American Museum of Natural History on the upper west side (79th Street). We were all ready to pay to get in when they told us it would be free in another 15 minutes, so we went to one of the subway exits to chill for awhile. There was a group of 4 people singing and dancing near the subway exit. One had a video camera… They were all foreign. A couple French, I believe one was Israeli, and one was from somewhere else in the middle east. We stopped and watched the outrageous display. Every time I opened my mouth to make any sort of comment, even if only to Derek, the guy with the video camera swung around and shot some breathtaking video of my every move. The girl putting on most of the show was Jewish and singing in Yiddish, which apparantly she didn't speak, as the one Yiddish phrase I knew soared well over her head. Two of the girls even grabbed us and started dancing for awhile. Totally insane.
It was a cool museum, although it was only open for an hour after it became free. We stayed inside as long as possible trying to rest our feet, but they eventually kicked us out.
Ate dinner at a Sushi place near the UCB Theatre, after searching all over Manhattan for a place even near our price range. We probably walked about 15 miles looking for the restauarant (including several more stupidly long searches for a subway station). By the time we got there, my hair had accumulated about 3 inches of snow, which melted instantly when I walked into the restaurant. I had to shake off like a dog. I had started to really wonder what I was thinking not bringing a winter coat or a hat. Thank god for hot sake. It helped me stop thinking about just about anything.
Next we met up with a girl who goes to U-M, has some classes with Derek, and happened to be in town with her roommates. Where? Karaoke bar in Chinatown!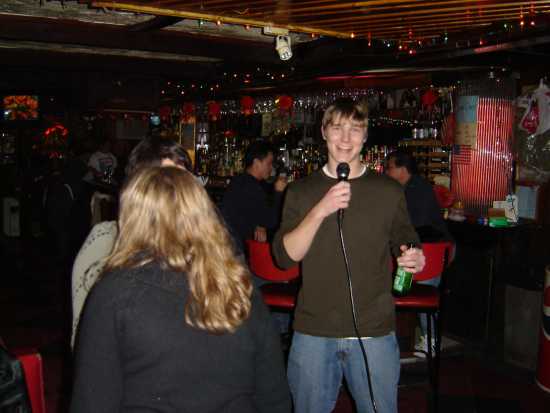 The 6 of us busted out some rocking tunes, including Derek and me murdering "Play that funky music (white boy)."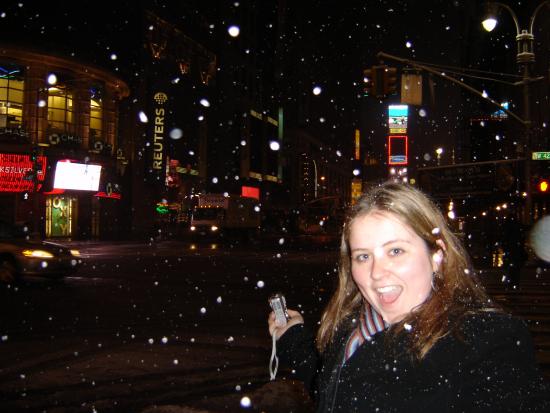 Took another trip through Times Square. Got home around 5am. One of the couples in our room had stolen Derek's pillow, so he had to search around for another half hour finding one.
Day 3:
We started off our day with a little payback that involved taking both pillows from the theiving couple's bed, as well as our own, and locking them in our lockers. You don't mess with a random person's pillow!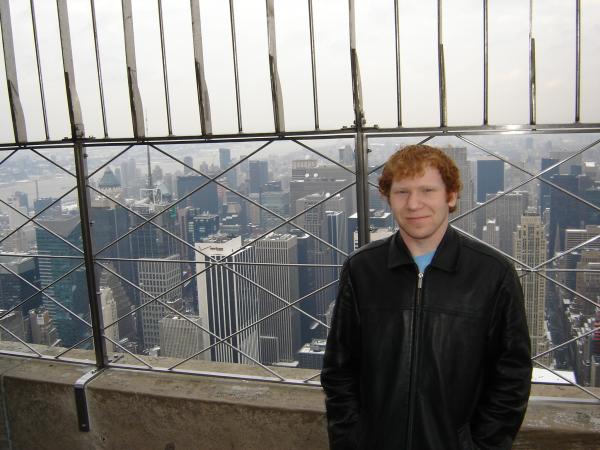 You're not a good tourist in NYC unless you go up in the Empire State building, so we did.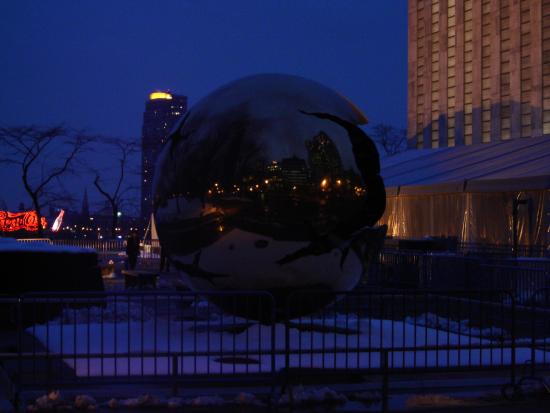 Had to check out the UN, but we got there just a bit after they stopped giving tours. I'm pretty sure I freaked out one of the guards when I stood around for about 5 minutes trying to take a half decent long exposure shot. Ate dinner in Chinatown, then got some irish coffee and gelatos in Little Italy.
On our way back we traveled down Broadway Ave. since we hadn't really seen all the sites there. A black guy across the street spots us and books across the street towards us. Just as he gets close, he breaks into song. He sings some weird rhyming song for a bit then asked for change. Yeah, serenaded by a vagrant on Broadway.
On our way back, Derek managed to fail to properly operate the turnstile on a subway enterance, putting his day pass in and pushing without actually being in the right section of the turnstile. The result being he was stuck outside. At least I'll never need justification for calling him a dumbass.
We again got home after everyone else in the room was asleep, and proceeded to make well directed shuffling and banging noises in the vicinity of a certain disrepectful duo.
Day 4:
We got the hell out of dodge.
Recap in 5 points:
There is no such thing as Manhattan on a budget. Absolutely everything costs money, and it costs a lot more than it should.
We walked, by our conservative estimates, over 50 miles, the vast majority of which were wildly unnecessary. Why? Because we grabbed a damn bus map. Who rides buses? We spent ludicrous amounts of time searching for subway enterances, walking up and down random avenues, and back and forth across random Streets. Had we picked up a subway map at the beginning, we would have been infinitely better off. On the other hand, we wouldn't have sat in the massaging chairs in Pier One for about an hour, nor in the country music section of a tower records (only part with chairs), nor would we have managed to get into NYU's amazingly private library.
There was a ton to see and do, but we managed to do most of it in 3 days.
Just about everyone was really nice. Every time we took out our map, someone would stop by and ask if we needed help. One guy stopped, gave us directions, walked about a block away, asked someone else, came back, and gave us some more directions. I'm of the opinion that people in the Midwest are of the least accomidating in the US, and hence the world. This is quite to the contrary of people in Massachusetts. Hence I had hoped to be once again surrounded by my cynical, xenophobic, and most of all rude and unhelpful bretheren. Instead, they just lock the bathrooms. What gives?
New York ROCKS.
There are any number of sketchier, grittier details to this odyssey that are being purposelfully left out, but I have to custom tailor responses so that the extent that any one person knows doesn't exceed tolerable limits. So ask and maybe you'll get something.
March 09, 2005