February 14, 2005
V-day, bleed me a river
Friday, after work, 3 other co-ops and I drove up to New Hampshire to go skiing. We spent the night at a cheap bed and breakfast. Less than $25 per person, 2 double beds, and a cot (one rock paper scissors game and one of the nice beds was mine!). It's eerie being in the Northeast sometimes. We walk into the place around 10:30, it's been dark for at least 4 hours, and we're walking into what looks like a living room of a relatively nice house… and it's totally empty. We wander around for a minute before we find a button you can push for service, and a nice old couple ambles out to greet us and point us to our room. As far as I could tell we were the only ones in the place. Breakfast was served at 7, and consisted of coffee, tea, orange juice, pancakes, and quite possibly the best sausage ever produced by any combination of pigs and men without shadowy dealings with the devil. We were the only one's there, although 2 tables for 2 were set up next to us.
From there it was on to Bretton Woods for a solid 8 hours of skiing. Yadda yadda yadda, good exhausting times were had by all.
Recovered Sunday.
Which brings us to today, Valentine's Day (for the less romantically inclined, Single's Awareness Day [S.A.D.], for the rebellious tinfoil-hat, a ploy by the evil corporations to subvert our culture into demanding we pour our hard earned money into the pockets of an increasingly evil and powerful aristocracy, or for the counter-culture all-star, a load of crap). While some spent the day with their loved ones, or plotting a coup d'etat for the exploited proletariat, I instead opted for 9 hours and 45 minutes at work. Most of that was because they decided to have a blood drive at work, and I figured I might as well donate. Since none of my other precious bodily fluids were going to be put to any use today, my blood might as well be. Went off with a bang let me tell you. The nurse put some paper towels down and had me making a fist, but when they put the needle in my arm I shot blood in a nice arc that spanned from about my waist on my side over to above my breast pocket. Of course, being the smart guy that I am I was wearing my favorite shirt that has any buttons on it… Ugh! On the positive side, I made it worth my while by eating 3 bags of Famous Amos cookies, a package of vanilla wafer cookies, a bag of cheesy crackers, and drinking 2 cans of lemonade, and a half liter of water.
So now I'm sore from skiing and having a needle in my arm for about 15 minutes (seemed like 2 days) without anything good coming in. Both were worth it in the end though. This was only the second time I've been skiing since I started college, and I'd always avoided giving blood because needles freak me out. I wanted to do it, and I did.
Happy Valentine's day. Lots of love.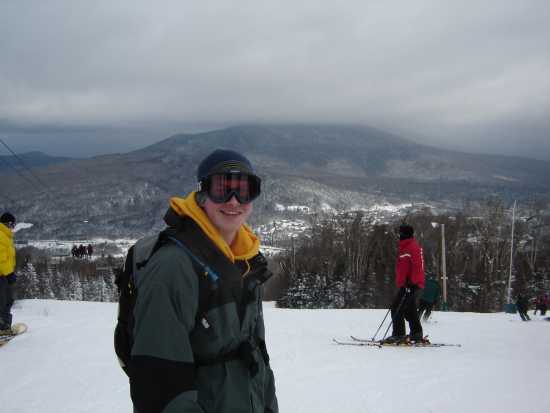 Just about everything about New Hampshire is beautiful. On the ride up, we passed through areas of severe desolation, which combined with the high altitude, clear skies, and complete lack of lights made for an awesome view of the stars. Yeah, pretty much the only thing that didn't kick ass was the price of the lift ticket.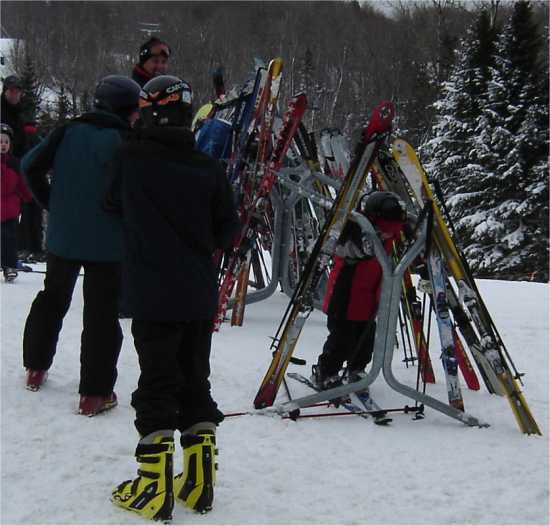 While waiting for Mike (who was taking snowboarding lessons because this was his first time) I noticed this kid standing inside the ski rack…

Then a few moments later, he started to freak out. He was stuck…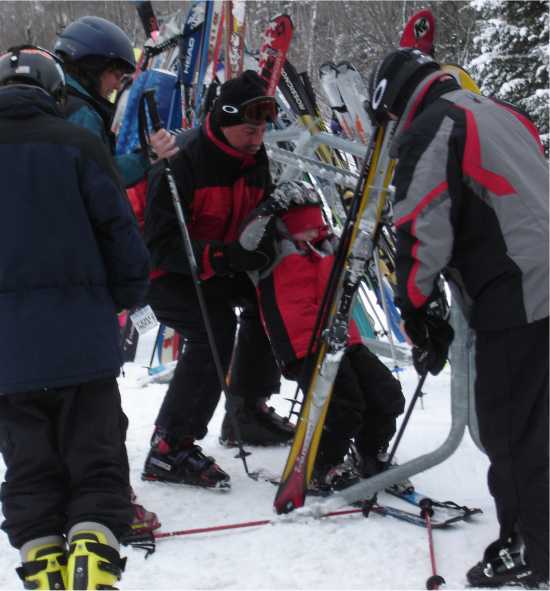 Some dude to the rescue! The kid was essentially in tears, which was all that stopped this from being one of the funniest things I've ever seen… or you know, helped it.

Molly fails to resist the double thumbs up.

My trophy… well that and the ability to convince little kids that I'm a heroin addict.
10 Comments »