January 29, 2005
On the recap
I've had a run of bad luck. My Grandmother died two Sundays ago, and I had to break the news to my mom. Tuesday morning, I woke up with a horrible fever, and would spend the next 5 days shivering, sweating, and drinking entirely too much water. Wednesday I started coughing. I still haven't stopped. I also went to work for a half day Wednesday morning, then came home, packed, spent a half hour wrestling in the single digit weather to get my frozen ski rack off the top of my car to save it a trip, and drove to Michigan. Thursday was the funeral. It was an open casket. I hate open caskets. I did all I could to try to help my mother, which is regretably little. I stuck to comforting her until they played Amazing Grace, which falls directly under an open casket on the list of things that won't be at my funeral.
I was a pallbearer. After the funeral I wanted to go home, partly to escape the depression, partly to make it back in time to go on the ski trip I had planned. It didn't feel right, and with the fever, I felt less up to leaving as the day dragged on. Friday I had breakfast with some relatives, after which I went with my cousin to see her new house, but couldn't because the cops were there tethering her boyfriend. Then I drove back. Somewhere in the 3 trips to and from Michigan I've made in the last 3 weeks, my driver's side windshield wiper stopped working right, my windshield washer fluid stopped working at all, and my driver's side door got subtly bent enough to cause a gap in the door seal, which lets in air and makes noise, and causes the window to get stuck up, and not want to go back up when its down.
This past Tuesday my headlights stopped working. Its the switch not the bulbs. I can't drive at night, but that hasn't stopped me from staying up way too late the last few nights, thanks mostly to late phone calls. Not that I don't love my late phone calls, especially those about a giant mutant killer mullet taking revenge on the mob… but I'm digressing. Today my attempts to catch up on my sleep were interrupted by my landlord, who had come for our rent. About two hours, and one impromptu guitar concert later, he left. He's a nice guy, but man does he need a friend. I know where he's coming from. I've never appreciated my ability in Ann Arbor to, on any given weekend, walk to a plethora of bustling house parties with people I know all around. I definitely miss it.
On the positive side, I got paid, thrice. Google cut me a check on Tuesday (for the ads), Intel with two on Friday (one for payroll, another for relocation). Its also beginning to look like the project that I'll be working, which currently lacks a go-ahead from up high, may soon at least produce some real coding for me.
Its a good thing time is flying, I need a change of scenery. And I can take or leave it if I please…



We got some snow…

just about 3 feet in a day.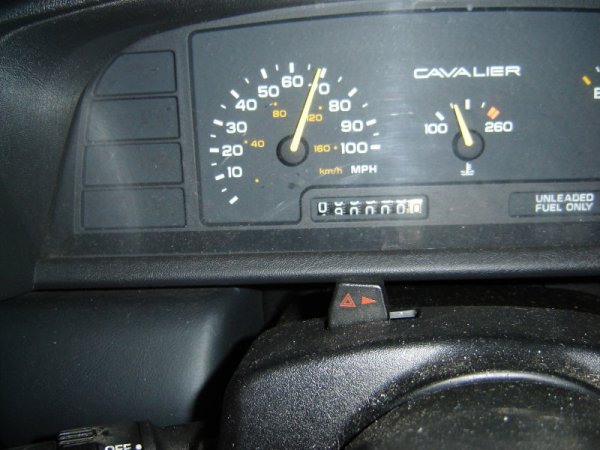 So many problems, and it hasn't broken 100 grand yet… On a side note, this was probably the slowest I went on my entire trip to and from Michigan.
My apologies for the somewhat depressing post.
27 Comments »