January 12, 2005
Working Life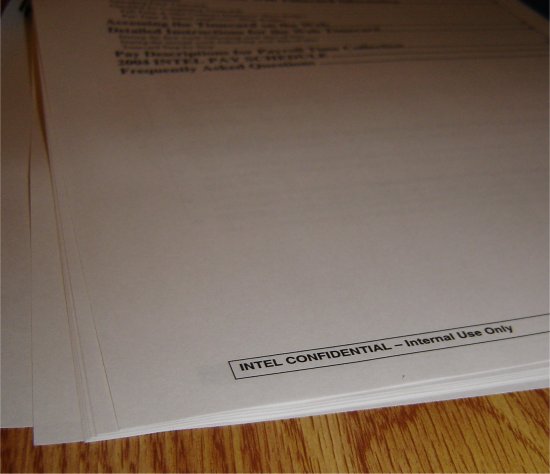 I'm alive. I made it. I live in Marlborough, Massachusetts and I work for Intel. I've almost been here a week, and the whole situation still positively exudes surrealism.
On the way to work:
2 miles of back roads
1 stop sign
1 stop light
10 speed bumps
almost as far in the parking lot as on the roads
security
Marlborough is a sleepy residential town of about 36,000. Sadly its more reminiscent of South Haven than Ann Arbor, only without the beach and the people I know. Boston is about 30 minutes east, and there are a few interns at Intel that live there, which is a start…
That brings me to my job. I work at Intel Hudson, along with about 2,300 intelligent souls in a massive complex that houses two office buildings and a fab (where chips are manufactured). I'm one of about 30 interns there, many of which started this month as I did. I work in the MTV (Microprocessor Tools and Validation) group, and more specifically with what they call tools. I'm the only intern I know of doing such. I share a cubicle on the 3rd floor with an intern from Nigeria, and my computer. The computer has two gigantic IBM monitors, 2 gigs of ram, a 2.2 ghz processor, and a keyboard/mouse tray on a stalk that can be positioned anywhere around me. It runs Linux, but we can also use a remote Windows terminal. I've learned a lot in 3 days, and while I don't really know what I'll be doing (which is probably good, as its all confidential anyways), I know its all very very complex, very very acronym laden, and initially at least, quite confusing. I have a mentor and he does a lot to alleviate this, but its still a lot to absorb. There are classes and training going on all the time, and I already went to one session of a computer architecture course. The one I went to was all review from a class I had last semester, but they plan on covering more in a span of a mere week or two than we did all semester. Fast paced? It seems to be the norm. The "instructor" did wax metaphoric about trying to drink from a firehose, so perhaps all is not lost. Much more follows…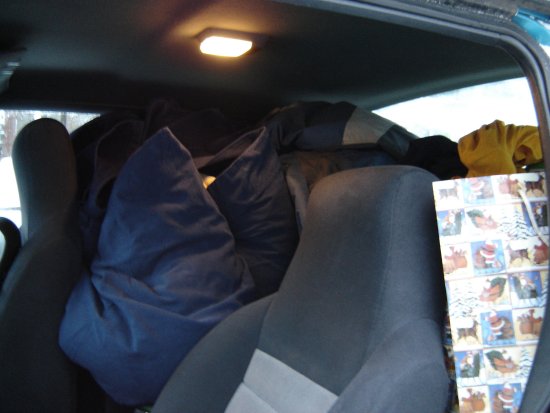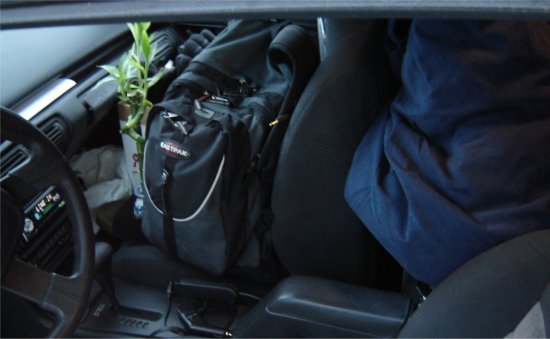 These pictures do very little to put across just how packed my car was. My trunk barely closed, and every last nook and cranny of it was full. My backseat had my computer, monitor, tv, all my clothes nice enough to hang on hangers, my jackets and coat, CDs, random cables, electronics, computer hardware, my speakers, and all my bedding and pillows. Riding shotgun were boxes of delicate things, my backpack, my pet bamboo (which was duct taped and strapped into a sandle, the only way I could manage to keep it upright), and all my shoes.
I was up at 7:15 am Thursday morning to finish packing. Before I left, I went to breakfast with Matt and Brandy. I was amazed enough that either of them were able or willing to get up early enough to see me off during break, but I was glad they did. It made for a good send off. Brandy limned the drawing above in about 2 minutes. I'm not sure when I became Harry Potter, and I haven't worn glasses since High School, but I still like it. And those are words to live by.
What followed was approximately 14.5 hours of a state close enough to Hell to share an area code, but far enough that there weren't too many people from Hell showing up and taking all the good parking spots. I drank a lot of caffeine, bought my life savings worth of gas, audibly cursed the 1991 GM assembly line that made my car without a passenger side mirror or cruise control more times than I'd admit to any UAW members, almost died in tragically stupid ways more times than I'd admit to anyone who's still convinced I'm really intelligent, violated the Canadian speed limit in such vile and sadistic ways that its psychiatric bills are likely to rival the cost of their socialized medicine program, convinced myself that my knee would never bend again or at least stop pulsing with pain from working the damn gas pedal, spent enough on toll roads to save at least a few hundred tsunami victims, and rolled into my apartment around 1 am.
I'm far from home sick now, but its a weird feeling knowing you won't really have your old home to go back to. I try not to think about it too much. Luckily theres plenty on my mind as of late.
Now get off your ass and come visit me.
5 Comments »